Here are the highlights for the week ending February 5, 2023:
More buyers are interesting in touring homes. During the week ending February 5, there was a total of 78,770 showings in the Bright MLS region. Showing activity slowed considerably in November and December but has begun to steadily increase. While the number of showings is still below where it was last year, showing activity did increase by 10.6% compared to a week ago.
Offers are coming in a little more quickly. The median days on market during the week ending February 5 was 17 which is two days faster than a week ago. Throughout the late fall and into the first part of 2023, the median days on market had been increasing. Now, as buyers begin to return to the market, they are finding that there is competition for available homes for sale.
Sellers might be coming back, as well. We saw buyers begin to come back to the market in January as mortgage rates fell, and now there is some evidence that sellers may be ready to jump back in as well. In the week ending February 5, a total of 5,908 new listings came onto the market across the Bright MLS footprint. This is about the same number of new listings during the same week last year and is 27.6% higher than a week ago. Prospective sellers may be seeing the uptick in buyer traffic as an encouraging sign, leading more to list their homes in advance of the spring housing market.
About Wicomico County, MD
Number of homes for sale in Wicomico County, MD real estate market have reached 321. In January 2023 in Wicomico County, MD there were 7.5% less homes for sale than in December 2022. While the average time on the market in January 2023 was 31 days, the median list price was $249,934. Real estate listing prices changed between December 2022 and January 2023: the cost of 1 bedroom properties went up by 24.6%, the cost of 2 bedrooms properties went up by 9.1%, 3 bedrooms properties prices increased by 12.8%, prices of 4 bedrooms properties went up by 15.4%, prices of 5 bedrooms properties went up by 14.5%. This housing market inventory have changed: volume of 1 bedroom homes stayed the same, 2 bedrooms homes became 18.8% less available, volume of 3 bedrooms homes went down by 2.8%, volume of 4 bedrooms homes went down by 15.8%, number of 5 bedrooms homes increased by 3%. In January 2023, from all listings sold in Wicomico County, MD there were more than 15 sold above asking price, over 30 sold below and more than 13 were sold right at the asked price.
Source: Rockethomes.com
Why Today's Housing Market Isn't Headed for a Crash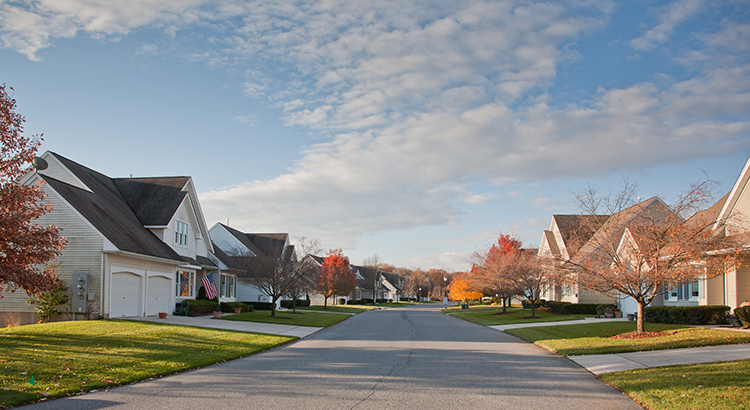 67% of Americans say a housing market crash is imminent in the next three years. With all the talk in the media lately about shifts in the housing market, it makes sense why so many people feel this way. But there's good news. Current data shows today's market is nothing like it was before the housing crash in 2008.
Back Then, Mortgage Standards Were Less Strict
During the lead-up to the housing crisis, it was much easier to get a home loan than it is today. Banks were creating artificial demand by lowering lending standards and making it easy for just about anyone to qualify for a home loan or refinance an existing one.
As a result, lending institutions took on much greater risk in both the person and the mortgage products offered. That led to mass defaults, foreclosures, and falling prices. Today, things are different, and purchasers face much higher standards from mortgage companies.
The graph below uses data from the Mortgage Bankers Association (MBA) to help tell this story. In this index, the higher the number, the easier it is to get a mortgage. The lower the number, the harder it is.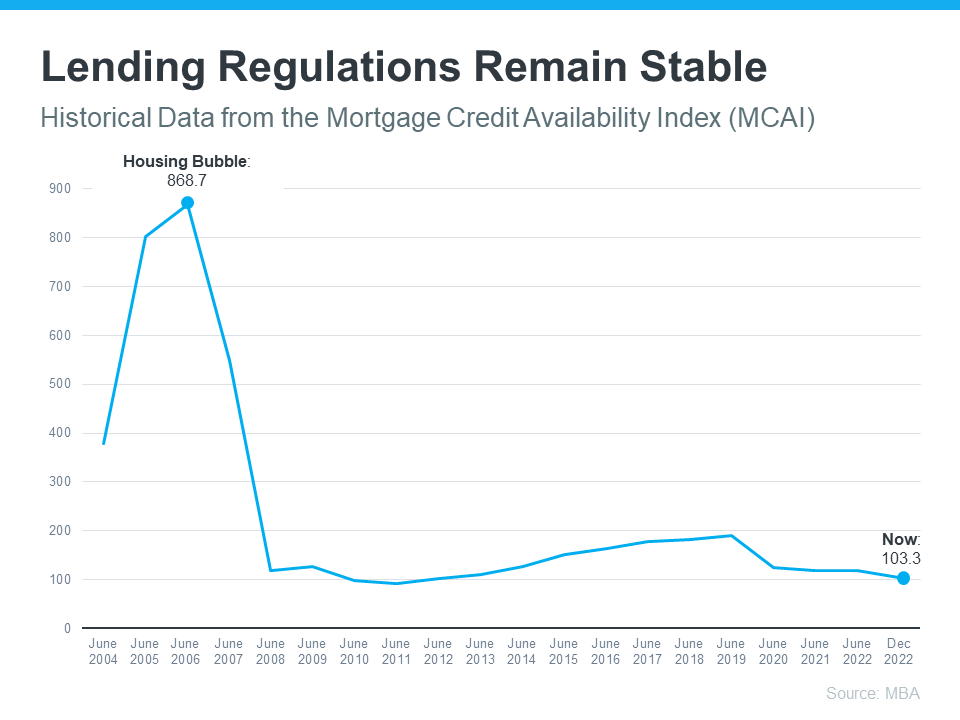 This graph also shows just how different things are today compared to the spike in credit availability leading up to the crash. Tighter lending standards have helped prevent a situation that could lead to a wave of foreclosures like the last time.
Foreclosure Volume Has Declined a Lot Since the Crash
Another difference is the number of homeowners that were facing foreclosure when the housing bubble burst. Foreclosure activity has been lower since the crash, largely because buyers today are more qualified and less likely to default on their loans. The graph below uses data from ATTOM to show the difference between last time and now: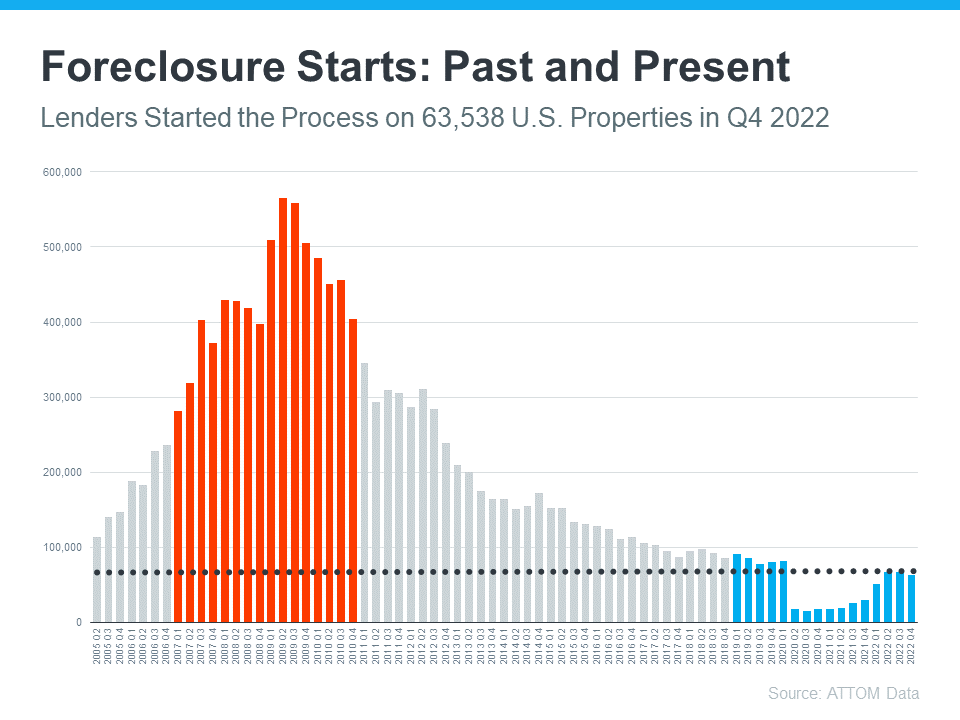 So even as foreclosures tick up, the total number is still very low. And on top of that, most experts don't expect foreclosures to go up drastically like they did following the crash in 2008. Bill McBride, Founder of Calculated Risk, explains the impact a large increase in foreclosures had on home prices back then – and how that's unlikely this time.
"The bottom line is there will be an increase in foreclosures over the next year (from record level lows), but there will not be a huge wave of distressed sales as happened following the housing bubble. The distressed sales during the housing bust led to cascading price declines, and that will not happen this time."
The Supply of Homes for Sale Today Is More Limited
For historical context, there were too many homes for sale during the housing crisis (many of which were short sales and foreclosures), and that caused prices to fall dramatically. Supply has increased since the start of this year, but there's still a shortage of inventory available overall, primarily due to years of underbuilding homes.
The graph below uses data from the National Association of Realtors (NAR) to show how the months' supply of homes available now compares to the crash. Today, unsold inventory sits at just 2.7-months' supply at the current sales pace, which is significantly lower than the last time. There just isn't enough inventory on the market for home prices to come crashing down like they did last time, even though some overheated markets may experience slight declines.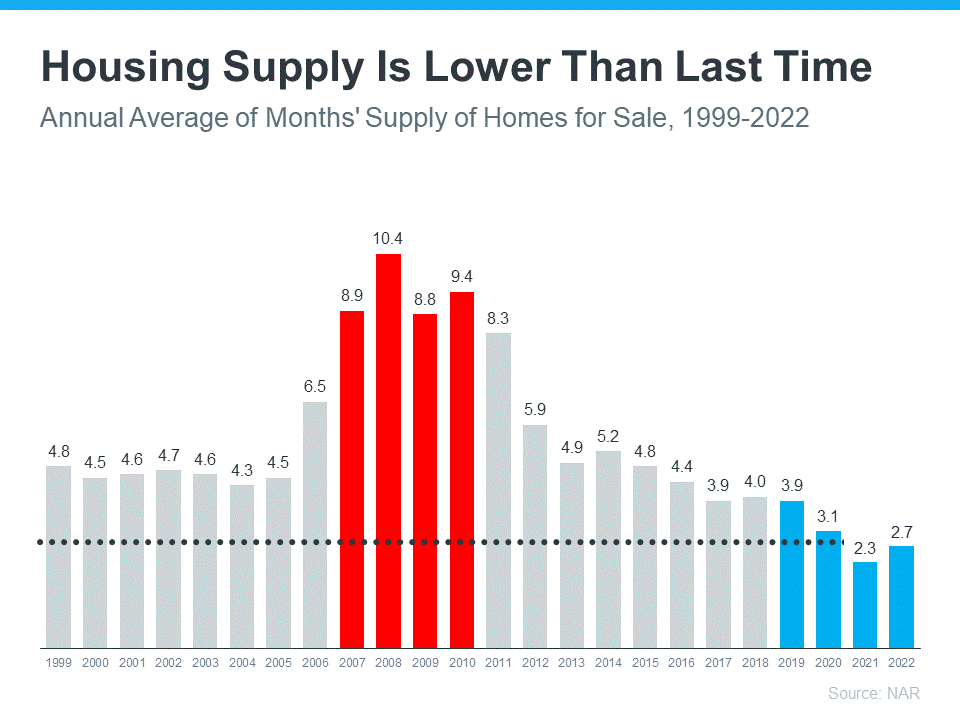 Bottom Line
If recent headlines have you worried we're headed for another housing crash, the data above should help ease those fears. Expert insights and the most current data clearly show that today's market is nothing like it was last time.
My Videos (use scroll bar to see more!)
FREE Buying and Selling Guides (click link in blue bar)
If You're Thinking of Selling Your House, Hire a Pro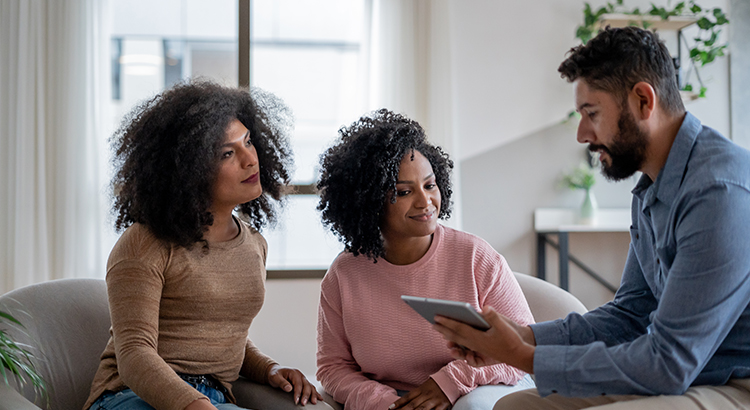 Today's market is at a turning point, making it more essential than ever to work with a real estate professional. Not only will a trusted real estate advisor keep you updated and help you make the best decisions based on current market trends, but they're also experts in managing the many aspects of selling your house.
Here are five key reasons why working with a real estate professional makes sense today.
1. A Professional Follows the Latest Market Trends
With higher mortgage rates and moderating buyer demand, conditions are changing and staying on top of the latest market information is crucial when you sell.
Working with an expert real estate advisor helps ensure you can stay updated on what's happening. They know your local area and follow national trends too. More importantly, they'll know what this data means for you, and as the market shifts, they'll be able to help you navigate it and make your best decision.
2. A Professional Helps Maximize Your Pool of Buyers
Your agent's role in bringing in buyers is important. Real estate professionals have a large variety of tools at their disposal, such as social media followers, agency resources, and the Multiple Listing Service (MLS) to ensure your house is viewed by the most buyers. Investopedia explains why it's risky to sell on your own without the network an agent provides:
"You don't have relationships with clients, other agents, or a real estate agency to bring the largest pool of potential buyers to your home. A smaller pool of potential buyers means less demand for your property, which can translate into waiting longer to sell your home and possibly not getting as much money as your house is worth."
3. A Professional Understands the Fine Print
Today, more disclosures and regulations are mandatory when selling a house. That means the number of legal documents you'll need to juggle is growing. The National Association of Realtors (NAR) explains it best, saying:
"Selling a home typically requires a variety of forms, reports, disclosures, and other legal and financial documents. . . . Also, there's a lot of jargon involved in a real estate transaction; you want to work with a professional who can speak the language."
A real estate professional knows exactly what needs to happen, what all the fine print means, and how to work through it efficiently. They'll help you review the documents and avoid any costly missteps that could occur if you try to handle them on your own.
4. A Professional Is a Trained Negotiator
If you sell without a professional, you'll also be solely responsible for all the negotiations. That means you'll have to coordinate with:
The buyer, who wants the best deal possible
The buyer's agent, who will use their expertise to advocate for the buyer
The inspection company, which works for the buyer and will almost always find concerns with the house
The appraiser, who assesses the property's value to protect the lender
In today's changing market, buyers are regaining some negotiation power as bidding wars ease. Instead of going toe-to-toe with all the above parties alone, lean on an expert. They'll know what levers to pull, how to address everyone's concerns, and when you may want to get a second opinion.
5. A Professional Knows How To Set the Right Price for Your House
If you sell your house on your own, you may be more likely to overshoot your asking price. That could mean your house will sit on the market because you priced it too high for where the market is now. Today, pricing a house requires even more expertise to ensure you get it right. NAR explains it like this:
"A great real estate agent will look at your home with an unbiased eye, providing you with the information you need to enhance marketability and maximize price."
Real estate professionals know the ins and outs of how to price your house accurately and competitively. To do so, they compare your house to recently sold homes in your area and factor in the current condition of your home. These steps are key to making sure it's set to move quickly while still getting you the highest possible final sale price.
Bottom Line
Whether it's following local and national trends and guiding you through a shifting market or pricing your house right, a real estate agent has essential insights you'll want to rely on throughout the transaction. Don't go at it alone. If you plan to sell your house, let's connect.